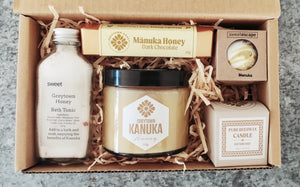 Greytown Honey
The Self Care - Gift Box
Regular price
$42.00
$0.00
Tax included.
This one might possibly be my favourite of the lot!
We all need to be reminded to take a little time for ourselves and this is the perfect kit to do just that! In this box you'll find:
A big jar of our Kānuka Honey, it's a mild honey that tastes amazing - coincidently it also picked up a gold medal at the 2021 Outstanding New Zealand Food Producer awards. 
A Pure Beeswax Beehive Candle, made right here onsite, there's so many reasons why you'll fall in love with our beeswax candles, not only do they burn clean but they pull toxins from the air and they smell great and create such an amazing relaxing and calming ambience in the room - they're perfect for burning while you soak in the bath! 
Which brings us to my favourite product - Bath Tonic (Kānuka) made by our friends over at Sweet Escape exclusively for us. Combine Epsom Salts with Kānuka Oil and the other luxury ingredients and your body will love you forever - sore joints and swollen ankles from a long day, I can vouch for this one, you'll feel amazing after a long soak in the bath with these! 
Or maybe you're a fan of Bath Bombs - we've included on of these aswell, it'll be a lucky dip of one of either our Kānuka, Mānuka or Oatmeal minis. If you've got especially sensitive skin - let me know and we'll be sure to put a totally natural Oatmeal Bath Bomb in your pack! 
As if this hasn't all sold you then we've left the crowd favourite till last - our incredible Mānuka Honey Dark Chocolate which needs no further introduction, like all our products it's made right here in New Zealand, by hand, using only the best chocolate paired with our amazing locally produced honey. 
Packaged in a recycled kraft box with natural woodwool that's ready for composting when your finished! 
Add a personalised message by emailing us at greytownhoney@gmail.com after you've placed your order and we'll be sure to include it for you! 
---
More from this collection